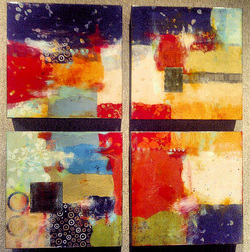 Born in a small, farming community in Illinois, P.T.'s growing up years were spent immersed in the elements of nature. After graduating from college in Iowa, a move to Minneapolis is where a love for artistic endeavors first emerged. As a hobby, the future artist started mixing artistic papers, paint and a variety of textural mediums.
Through a job promotion, P.T. moved to Southern California. After a successful business career, the artist is devoting full-time attention to the first love of mixing mediums to create bold and harmonious two and three dimensional constructions.
Collections of the artist's work can be found in galleries in Los Angeles, Chicago, Fort Myers, Houston, Cincinnati, Cleveland, Dallas, New York, Raleigh, Charlotte, Omaha, Atlanta and Singapore.
Corporate Placements:
American Bankers Association (ABA)
Robert W. Baird
Toyota Motor Sales USA
Ernst & Young
Anthem Blue Cross Blue Shield
Von Lehman & Company
Town Properties
Cincinnati Eye Institute
Comair Greater Cincinnati/Northern Kentucky Airport
MD Business Solutions
Marriot Kingsgate
Town Properties
MRSI
Contech Construction Products
ARCW – Aids Resource Center for Wisconsin
Methodist Medical Center of Illinois
PNC Bank
University of Wisconsin Hospitals